Sally Morgan wrote the book on contemporary vocal technique – literally. Sing Like You Speak™: Simply and Naturally. SLYS™ is specifically designed to restore the effortless vocal production that is natural to the human instrument making your singing powerful, joyful and free. Sally has been successfully training singers for more than 30 years.
Your Body-Your Instrument-is Smarter Than Your Mind
by Sally
Your body is smarter than your mind. Your body is your singing instrument. So why does singing seem to be so difficult? Sing Like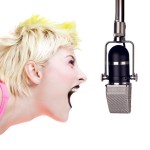 You Speak™ is here to teach you it ain't necessarily so.
Breathing is completely natural. You are reading this, so your breathing is working – you are alive.
And yet when it comes to singing, we second-guess or even doubt the body's natural ability. We actually override nature by overthinking the process and relying on the mind to 'figure it out' instead of trusting the natural process of breathing and phonation. We actually invite the mind to participate in a perfectly natural process.
Does this sound familiar?
You take an inhale and you immediately think, that isn't enough air to get through the phrase! So you push and pull at the muscles of your abdomen to "help" your singing process.
But guess what? You run out of breath even faster!
That's what happens when you take a subconscious process – breathing – and make it a conscious process.
The purpose of your inhale is to open the whole instrument. It is to open your resonators, release the jaw and larynx and open all the way down to the lower back and abdominal muscles, thus activating those powerful muscles that will naturally work to propel breath and sound easily through your open instrument.
When I was developing Sing Like You Speak™ my contemporary vocal technique, I could not ignore the fact that singing is natural. And if singing is natural and breathing is natural – what makes singing so difficult?
Makes singing difficult…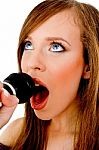 Voice teachers who tell you to manipulate and force the physical instrument
Trying to imitate most singers recorded after 1997 where the singer has been recorded (first was Roy Vedas Fragments of Life) and then a sound engineer has manipulated the voice for better pitch, tone quality, rhythm. You are not listening to a voice but to an electronically altered sound that cannot be imitated by the human instrument.
Myths or false thoughts about the effort involved in singing
Trusting the mind and not the body
Sing Like You Speak™ always uses the natural physiological process for simple, healthy signing. Your inhale is to open the instrument. Done right, releases the jaw, tongue and larynx, opens resonators and activates the very intelligent low abdominal and back muscles. That sound like a lot to do but it can be achieve with one thought.
When I have new voice students who has studied voice with another teacher in the past there's always a conversation that goes something like this.
Student: That's it? That's all you do to inhale?
Sally: Absolutely! A simple opening inhale.
Student: But how do I get enough air to sing a long phrase or to sustain a pitch?
Sally: With a simple opening inhale. It seems you want to feel how much effort you are using to breathe.
Student: Of course. The effort tells me that I've gotten a good inhale.
Sally: Aren't you taking lessons to learn how your singing can be effortless?
Student: Well, I didn't really believe that it could be easy. My last teacher taught me to push out on the inhale and pull in like crazy to exhale.
Sally: Yes, that's typical old-school teaching. Let's experiment with a simple, opening inhale.
First step is a simple, opening inhale…
Align your instrument collarbones wide, head on top of the body
Release the jaw and tongue
Feel as though you are opening your instrument all the way to your bottom
Blow the breath out and simply observe how the abdominal and lower back muscles are working – just observe to not interfere.
Use the above breathing process for our experiment proving how brilliant the body can be. No pushing or pulling of belly muscle allowed!
Experiment 1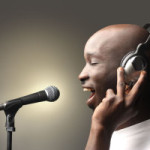 Perform a simple opening inhale as described above
Exhale saying an FFFFFF
Observe what muscles are working
Experiment 2
Perform a simple opening inhale as described above
Exhale saying a VVVVV (be a motorcycle)
Observe what muscles are working
Experiment 3
Perform a simple opening inhale as described above
Exhale saying a ZZZZZ (be a bumble bee)
Observe what muscles are working
Experiment 4
Perform a simple opening inhale as described above
Exhale sighing an MMMMM
Observe what muscles are working
What did you observe?
If you were able to perform the simply opening inhale then with each experiment you felt a different set of muscles working. The physical intelligence of your instrument chose which muscles to use. Your physical intelligence simply knows what to do. Your mind cannot possibly figure out how to use different muscles for different consonant sounds.
I love the fact that my physical intelligence takes over the singing process when I allow it to. Taking the process out of my mind and putting it into the body where it belongs lets me focus on the music, on phrasing, on character, on enjoying the massive vibration of my sound and having a blast doing so!
Click here for the best voice lessons on the web!