Sally Morgan wrote the book on contemporary vocal technique – literally. Sing Like You Speak™: Simply and Naturally. SLYS™ is specifically designed to restore the effortless vocal production that is natural to the human instrument making your singing powerful, joyful and free. Sally has been successfully training singers for more than 30 years.

Sally has helped her clients heal vocal damage, expand vocal range, land a Broadway show, record their own music and tour internationally without vocal fatigue or strain.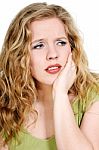 Singers, when your jaw is tight nothing goes well with your singing. You can't get a good opening inhale. When your tight jaw won't drop open for the inhale, you can't active those lowest abs and back muscles that make your singing powerful. Your sound can actually get trapped and held by the jaw.
As a voice teacher, I am always saying, "Drop the jaw! Open up!" What's funny is the response that I get so often which is a very frustrated, "I AM!" Not so much.
Watching in a mirror while your are singing is really the only way to know.
Enjoy this video lesson from SingLikeYouSpeak.com my online singing lesson website. This is an actual lesson. You won't get to see the good stuff in this video anywhere else.
Watch this video lesson from my online training to get a tip that will relieve jaw tension.
I love to hearing about your vocal technique and your singing progress!
breathe,
Sally Morgan