If it's electronica/pop/rock you're looking for – and a lot of fun – we have the answer ! We recently caught up with R-mione in Paris and spent some time over coffee catching up with our good friend. In fact, R-mione's music covers a wide range. It can be very upbeat and driven and/or very soothing – mellow often owing to the artful use of electronics. We have to tell you that in addition to being extremely talented and energetic – R-mione is absolutely delightful and the when you talk with her the time flies by!
Hey! Great to see you! Tell us about yourself and your music background.
R: I was born in the south of France at Nice Côte D'Azur on the Riviera. I grew up for a time in Chalon sur Saône where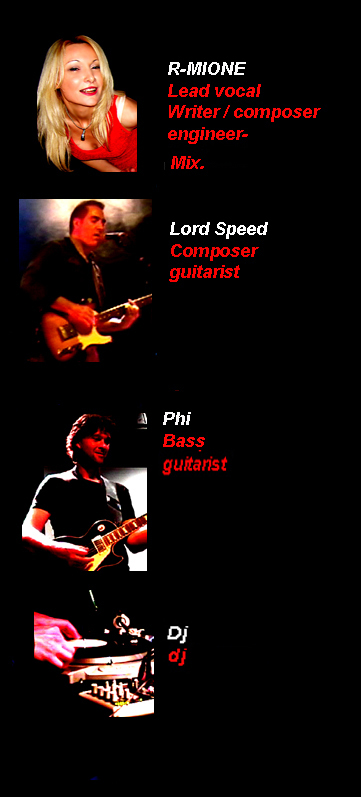 I started playing the piano and studying music theory. I can't say I was a great student and early on I found I was interested in rock music and bored by music theory! Some years later, when I was fifteen, I moved to Lille in the north of France and started taking guitar lessons.
That must have been quite a change from the Mediterranean to Lille in the north!
R: Yes, that's true, but we had to move because of my parents' work. Anyway, I wasn't there too long as at eighteen I moved back south to Niceand oursue my own life and interests. I worked at the National Theater of Nice to earning a living and pay for my studies at the university (letters). I also took music theory and voice lessons with a famous conductor. I joined a grunge band as lead singer. That's where I met my best friend, Lord Speed, the leqd guitarist!
Grunge band? How did that work out?
R: Well we actually performed a lot and in 1997, the band had to move to Paris. It was at this time I really started getting attracted to production and I also met a lot of different artists across genres – especially rap and electronic. I started to aquaint myself with electronic machines, samplers, computers and home studios.
Okay, but that's quite a step forward. How did you learn to use the equipment and how did all that change your music?
R: First, my music moved from rock to trip-hop and jungle influences came into play. Lord Speed and I left the band and started new projects. We signed with Bis Music FRANCE to do some albums in 1998. Second, at the same time, I joined THE SOUND ACCESS engineer school and was set to graduate in 2000. I became a producer at that time. Lord Speed and I created a label, SELVA CONNECTION. We made vinyls for DJ distributed by Under One Sun based in the U.K. One of the most famous is LWD.
We scored music for the cinema-like "Electron Libre" movie by Marie Donnio. Also we did "Petite Copine" by Frederic Defenthal. We also worked with Game One TV.
And your music at this point?
R: By now we had created a style of our very own by injecting a subtle mixture of all our influences – electro, rock, folk, and trip-hop influences. Our lyrics are in English and the voice moves from clearness to a blues emphasis – all sustained by a half-rock (bass/guitar) and electro (DJ).
What are you doing now?
Well, at the present time I'm working on a new album. New singles are "STOP", "PRIVATE GARDEN" and "WHERE IS LOVE".
Alright everybody, you can hear R-mione and see the vids for "PRIVATE GARDEN" and " "WHERE IS LOVE" at http://www.myspace.com/rmione. Vids for all three songs are on YouTube (also check out the HorizonVU Music YouTube Channel).
R-mione, great to see you as always – you're a good friend of HorizonVU Music! Best of luck to you!!! We're going to leave you all with (probably) our favorite "PRIVATE GARDEN"!!!