Sally Morgan wrote the book on contemporary vocal technique – literally. Sing Like You Speak™: Simply and Naturally. SLYS™ is specifically designed to restore the effortless vocal production that is natural to the human instrument making your singing powerful, joyful and free. Sally has been successfully training singers for more than 30 years.
Sally has helped her clients heal vocal damage, expand vocal range, land a Broadway show, record their own music and tour internationally without vocal fatigue or strain.
Singing Is Praying Twice
Our spiritual director is always telling us that singing is praying twice. The vibrational level of singing calls out to the Universe on a higher wavelength. Our singing – your singing – is a great joy to Spirit.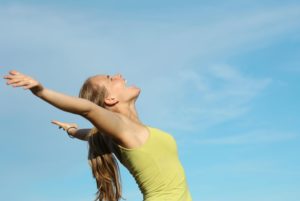 There are those who would say to me – a voice trainer – that God would not find joy in their singing because it's so bad. I respectfully disagree.
Everyone is born with the perfect musical instrument – your body. The human body is an amazing machine that functions automatically at a level that is difficult for the human brain to comprehend. When you ask your body to open up in a certain way, it will respond with, "Yea! You remembered! I can now support your voice."
Last week I had a new-ish student who all of a sudden got the breathing and her voice completely opened up. She said, "Wow, I just had this flashback moment. It was like my body remembered breathing this way when I was a very small child."
YES! That's it! The breathing was taking her back to Source.
The absolute perfection of the human musical instrument is yours to claim. With a bit of help to use your voice naturally, you can sing. You can feel the joy of singing your song and singing your affirmations.
I am leading a Master Class titled, Sing Your Affirmations|Praying Twice™. Sing your affirmations for double the energy and possibly double the manifestation!
I am so excited about leading this Master Class! It brings together those things I care most about. I love to teach singing. I love how happy I feel when I'm singing my affirmations. I love the empowerment of prayers manifested.
Please join us for an empowering and joyful evening and discover for yourself the Singing is Praying Twice.
Sing Your Affirmations|Praying Twice™
Tuesday, June 14, 2016
6:15-7:45
225 West 99 St. NYC
$10 suggested donation – no one turned away for lack of funds
breath,
Sally