Sally Morgan wrote the book on contemporary vocal technique – literally. Sing Like You Speak™: Simply and Naturally. SLYS™ is specifically designed to restore the effortless vocal production that is natural to the human instrument making your singing powerful, joyful and free. Sally has been successfully training singers for more than 30 years.
My Audition Sucked!
Ugh! What a horrible feeling when you put you heart and soul into preparing for a vocal audition then you leave the room knowing that it sucked. Ugh!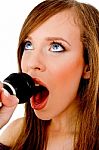 A successful audition is not always going to get you the gig. You never know what "they" are looking for. I'm talking about an audition you can be proud of and feel good about.
The big question now is how do you prepare for a successful audition? Leaving the room high on that brilliant flow of energy knowing that you sang your heart out. What can you do to ensure all your auditions are successful?
I teach a singing audition prep class at Steps on Broadway in NYC. Here are the steps students walk through to ensure a successful audition.
1. Have a consistent warm up routine that opens your instrument, connects your singing to the powerful abdominal muscles that know how to move breath and sound freely through your instrument and to communicate through lyrics.
2. Establish a routine to keep you calm and focused.
3. Know your audition song. Really know the song. More importantly choose a song that you LOVE and can't wait to sing.
4. Mark your music clearly for the pianist. Choose a cut that shows range and character.
5. Be prepared to sing the entire song if asked. (normal audition you'll sing 16 or 32 bars of a song)
6. Communicate to your audience – the auditors in this case – tell the story of the song.
7. Keep your body open and your face visible. Body language tells the auditors a lot about how you will look on stage.
8. Be polite and personable – even if the auditors are rude.
9. Be yourself. You are the most fascinating when you are being natural.
You will do many, many auditions in your career. No audition will make or break your chances for a successful performance career. Start preparing for the next audition.
All the best! I love training singers and am always here to help you!
Sally Morgan
Visit Sally at http://singlikeyouspeak.com and Facebook